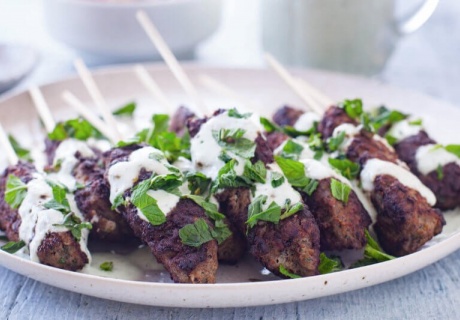 Lamb Kofta Flatbread
Easy to cook mid-week, Ziggys lamb koftas lend themselves to being served on flatbread with delicious fillings.
Recipe
Ingredients
8 Ziggys Lamb Koftas
8 skewers
8 small flatbreads
shredded red cabbage
shredded carrot
freshly chopped mint
Yoghurt Sauce
1 cup Greekstyle yoghurt
1 tbsp extra virgin olive oil
1 clove garlic, crushed
1 tsp cumin
1 tbsp lemon juice
pinch of salt and pepper
Method
Combine the yoghurt sauce ingredients, cover and leave in the fridge for about half and hour.
Push the koftas onto the skewers
Heat 1/2 tbsp of oil in a large skillet over medium high heat. Cook the koftas in batches for 5 minutes, turning them regularly to brown evenly. Set aside to serve.
Smear the flatbread with yoghurt sauce, then top the sauce with as much carrot, cabbage and mint as you like, then add a kofta (with the skewer removed)

Drizzle over more sauce, fold or wrap the flatbread and enjoy!