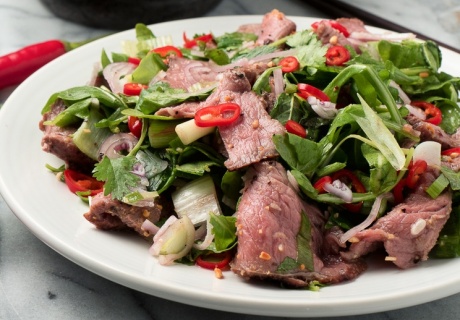 Thai Beef Salad
This salad is full of incredible flavour, with marinated beef and tangy Thai dressing.
Recipe
Ingredients
3 tbsp lime juice
3 tbsp low salt soy sauce
3 tbsp extra virgin olive oil
2 tbsp honey
1 tsp garlic (minced)
1 1/2 tsp ginger (minced)
1 1/4 tsp chili paste
4 cups mixed lettuce leaves
3 shallots, thinly sliced (reserve a little as garnish)
1/2 cup coriander leaves, rinsed and dried
1 cup basil leaves, thinly sliced
Ingredients
In a jug, combine the soy sauce, oil, honey, 1 tbsp of the lime juice, garlic, ginger and chili. Pour half of the mixture into a large large mixing bowl or container, along with the remaining 2 tbsp of lime juice. Reserve the remaining mixture in the jug as dressing.
Place the steak into the mixing bowl or container, making sure it is fully covered with the mixture. Seal tightly and refrigerate for at least 4 hours.
When ready to cook, heat a grill or skillet, coat with oil and place add the marinated steaks. Grill until medium rare, about 5 minutes on each side. Remove from the heat and allow to rest at room temperature.
Slice the steaks thinly against the grain.
To make the salad, combine the lettuce, sliced shallot, coriander and basil in a salad bowl. Loosely toss through the beef and sprinkle over a few shallots for garnish.
Dress with the reserved mixture and serve, dividing amongst 4 bowls.